When it comes to oil pastels, whether you're a complete beginner or a seasoned professional, you've undoubtedly come across the name 'Sennelier.' There's a good reason for that – these oil pastels are legendary in the art world and often called the best oil pastels available. In fact, they were originally created for none other than Pablo Picasso himself!
A little glimpse into history: In 1949, the renowned Parisian painter Henri Goetz approached Henri Sennelier, the famous artist materials manufacturer, with a unique request – to create a wax color stick suitable for Picasso's artistic needs. Picasso, a frequent visitor to Sennelier's store just across from the Louvre Museum, was on the lookout for a medium that would allow him to express his creativity on various surfaces without the worry of fading or cracking. Their collaboration gave birth to what we now know as the incomparable Sennelier oil pastels. (Source)
Naturally, I had to put these to the test. So, here's my comprehensive Sennelier oil pastels review, focusing on the 24-color portrait set.
The Set & Packaging
I opted for the Sennelier oil pastels portrait set, which boasts an array of 24 colors. However, Sennelier caters to a spectrum of preferences with sets ranging from 6 to 72 oil pastel colors. For the ultimate collection, there's the 120-set, a treasure trove of every conceivable hue. Of course, you can also buy individual colors to curate your own palette.
The packaging itself is very visually pleasing, adorned with a Picasso-esque portrait. Within this box, the oil pastels rest in foam compartments, safeguarded by an additional removable layer. This thoughtful design ensures their protection during transit. Inside the box are two leaflets. One of them showcases the complete Sennelier oil pastels color chart of all 120 colors, distinguishing between the transparent and opaque shades. It's worth noting that these pastels are artist grade and all 120 colors are 100% lightfast.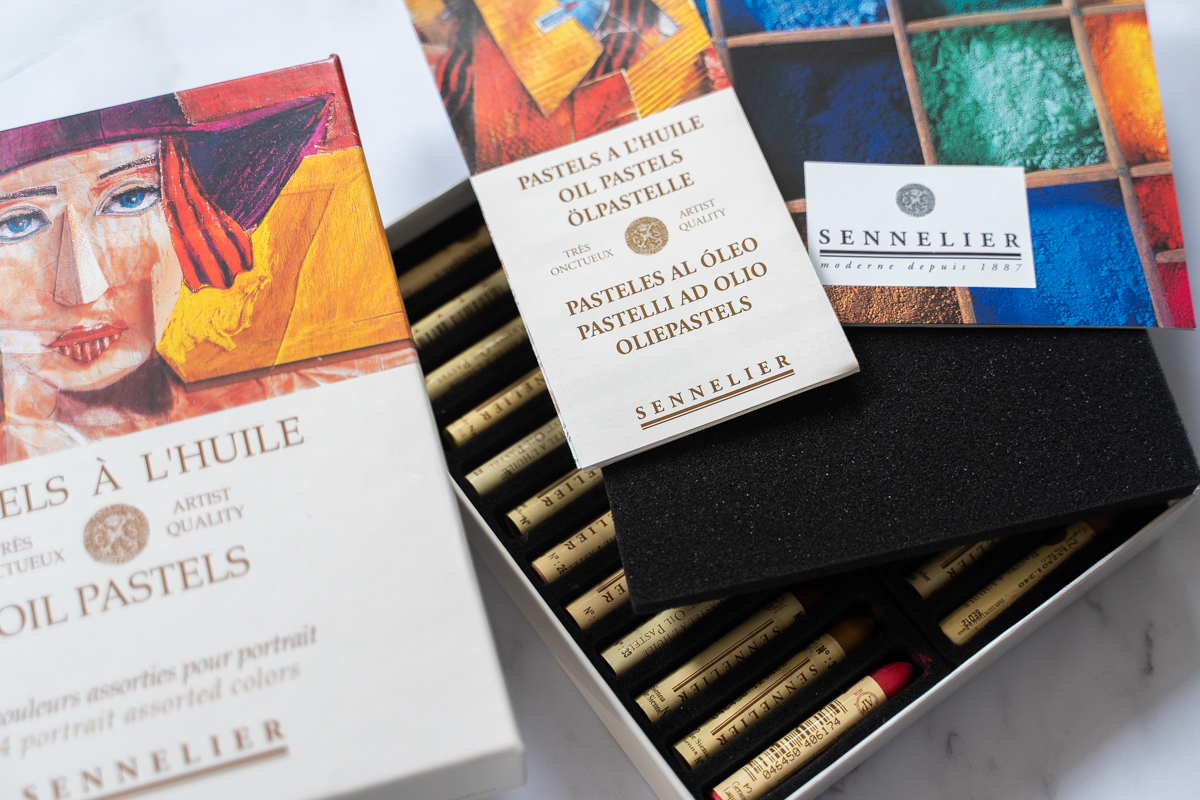 Sennelier Oil Pastels Price
When it comes to Sennelier oil pastels, you're venturing into the realm of artist-grade materials crafted with the utmost care. These pastels contain high-quality pigments, an extremely pure synthetic binding medium, and mineral wax, ensuring a luminous quality that's not only visually captivating but enduring over time. Such artistry does come with a price tag that reflects its superior quality.
For those considering buying some Sennelier oil pastels, the 24-color set is a popular choice, retailing at approximately $49. If you're drawn to specific shades, individual colors can be acquired at prices ranging from $3.99 to $5.55, depending on the particular hue and where you buy.
Where To Buy Oil Pastels?
You can find Sennelier oil pastels in your local art supplies stores or order them online on Amazon or Blick.
Amazon Links:
Sennelier Oil Pastels 24 Colors Portrait Set
Sennelier Oil Pastels 24 Colors Landscape Set
Sennelier Oil Pastels 24 Colors Still Life Set
Sennelier Oil Pastels Complete 120 set
First Impressions
My first encounter with the Sennelier oil pastels left me genuinely impressed, beginning with the packaging itself. Sennelier's thoughtful design of their oil pastels includes a perforated wrapper segmented for ease of removal. The nib of the pastels is bullet-shaped and not flat making it easier to draw smaller details.
However, it's worth noting that the Sennelier oil pastels are slightly smaller compared to some other oil pastel brands I've used, such as the Mungyo oil pastels or the Paul Rubens variants.
Additionally, the pastels within the set exhibited slight size discrepancies. In fact, a couple of them were notably smaller and slightly thinner than their counterparts. While this suggests a handcrafted quality to the pastels, considering the investment I've made in these, I anticipated a more consistent product size across the set.
Here's a list of oil pastel essentials I recommend
The Color Selection & Swatches
In my pursuit of conducting a comprehensive Sennelier oil pastels review, I began by swatching all 24 colors within the set. This particular set caters to portrait artists, offering a palette dominated by neutral tones encompassing various shades of beige, brown, and ocher, complemented by select reds and blues. Additionally, it features a light yellow, a white, and a black pastel.
It's essential to note that while the majority of pastels in this set are opaque, a few of them are transparent. Naturally, the transparent ones exhibit a different behavior, providing slightly less coverage on the drawing surface compared to their opaque counterparts.
However, I did find that two of the red shades, 28 and 202, appeared rather similar, which left me yearning for a lighter or darker red or perhaps the inclusion of a vibrant pink or purple for added diversity.
While the absence of greens is noticeable, it's hardly a concern, given the portrait-oriented nature of the set. For those inclined towards landscape artistry, an alternative 24-color landscape set, replete with an array of greens, is readily available.
Summing it up, the color spectrum curated here is well-suited for portrait depiction. The versatile nature of oil pastels allows for easy color mixing to achieve any shade you may require.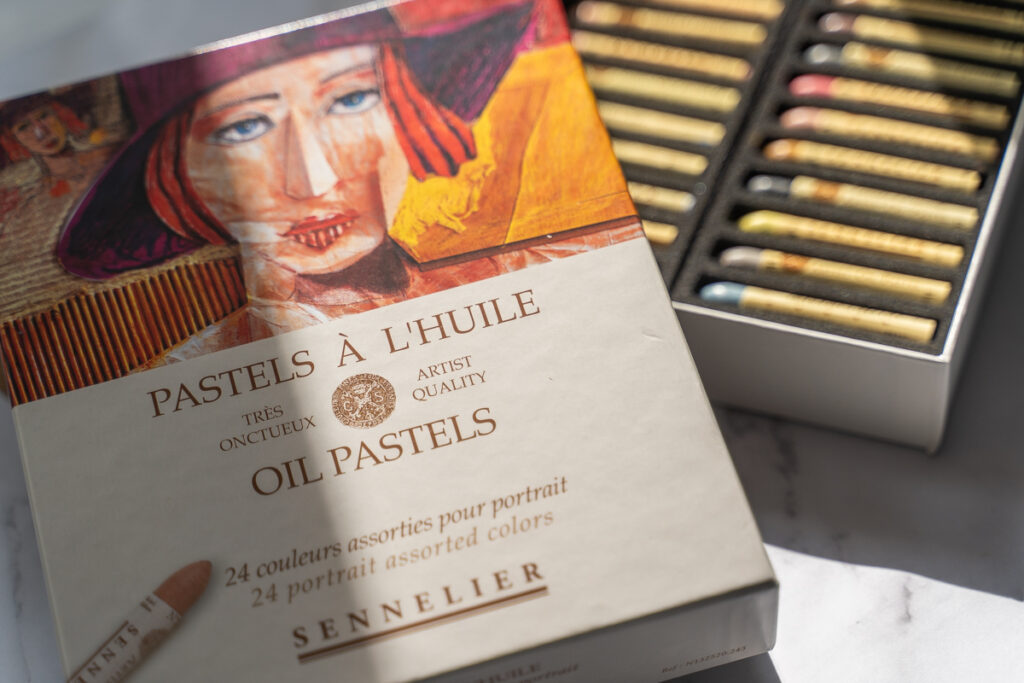 Performance
So, what's the hype surrounding these Sennelier oil pastels? Do they genuinely live up to the acclaim? Regrettably, for my wallet's sake, I must affirm that yes, these oil pastels are nothing short of exceptional.
Their texture is exceptionally smooth and velvety, gliding onto the paper like butter or a soft lipstick. Yet, there's no hint of stickiness; in fact, they evoke more the sensation of working with a super soft wax than an oily substance.
One of the striking attributes is their ease of application. You don't need much pressure at all to apply them onto the surface. Whether aiming for a thick, painterly texture using the opaque pastels or layering the transparent ones atop the opaques, these pastels deliver with finesse.
Pigmentation is, without a doubt, a strong suit of these Sennelier soft oil pastels. The colors possess a captivating richness, and their blendability is a joy to experience. Mixing and merging shades is remarkably easy and works incredibly well.
Admittedly, there's a small downside: their softness comes at a cost. Due to the ease with which they apply, they do tend to wear down a bit faster than some firmer alternatives.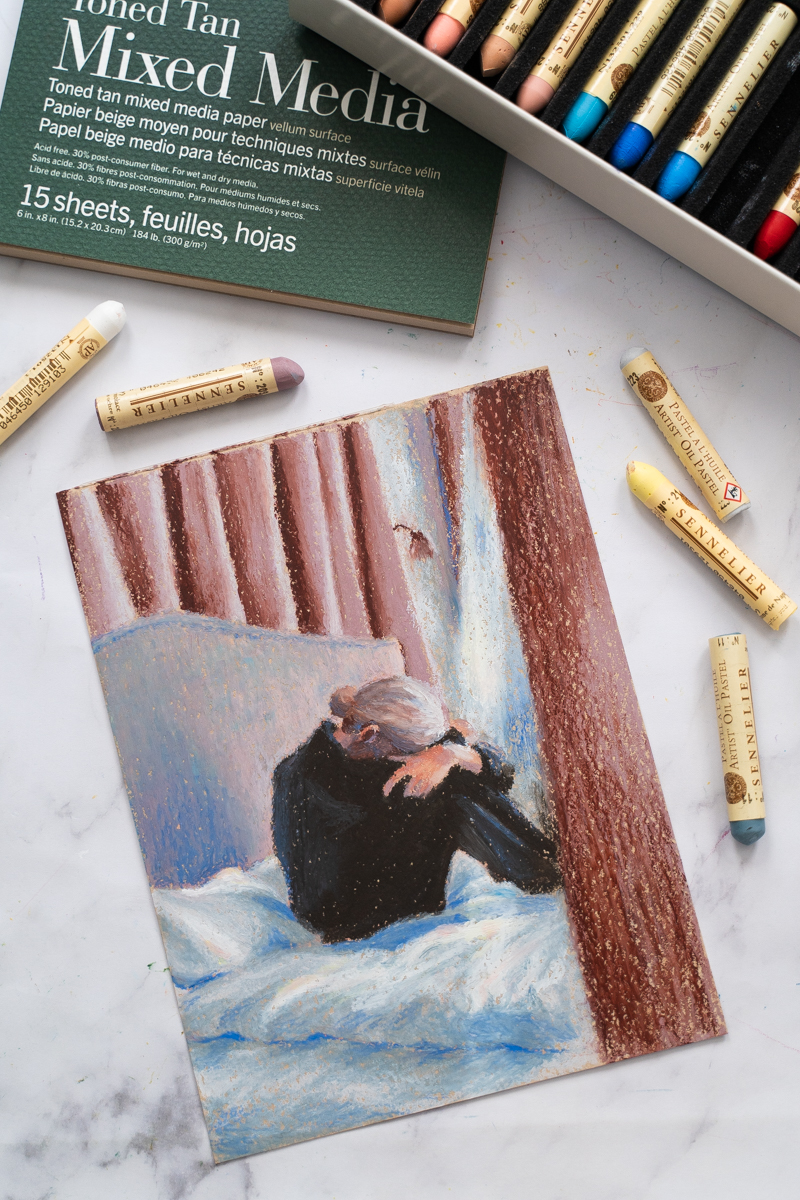 Do Sennelier Oil Pastels Dry?
Due to their composition, which includes pigments, binding medium, and wax, Sennelier oil pastels never truly achieve complete drying. Instead, they tend to harden gradually over time. To maintain their quality, it's advisable to store them in a cool, dry environment.
Also note that oil pastels are different from oil sticks which are a composition of oil paint.
To safeguard your artwork from smudging, there are a few protective measures you can take. Utilizing a fixative spray, such as the one offered by Sennelier, or a varnish appropriate for this purpose like this one from Royal Talens can provide an effective shield. Additionally, framing your artwork behind glass is another reliable option.
When storing your artwork, consider placing a sheet of transparent paper on top of it to prevent any potential transfer of oil pastel pigment onto other pieces.
Are Sennelier Oil Pastels Toxic?
It's worth noting that certain Sennelier oil pastels do contain pigments that are classified as toxic, such as cadmium or cobalt. If you have concerns regarding the usage of such pigments, you can identify the specific pigments used on each oil pastel.
In terms of health considerations, it's important to recognize that cadmium particles are typically too large to be absorbed through the skin. In comparison, concerns about inhaling dust from soft pastels might be more concerning. To ensure your safety, practicing general studio precautions—such as washing your hands with soap after using art materials and refraining from eating near them—can help mitigate any potential risks.
As a whole, as long as you don't eat your oil pastels and maintain basic studio hygiene, you can enjoy working with Sennelier oil pastels without undue worry.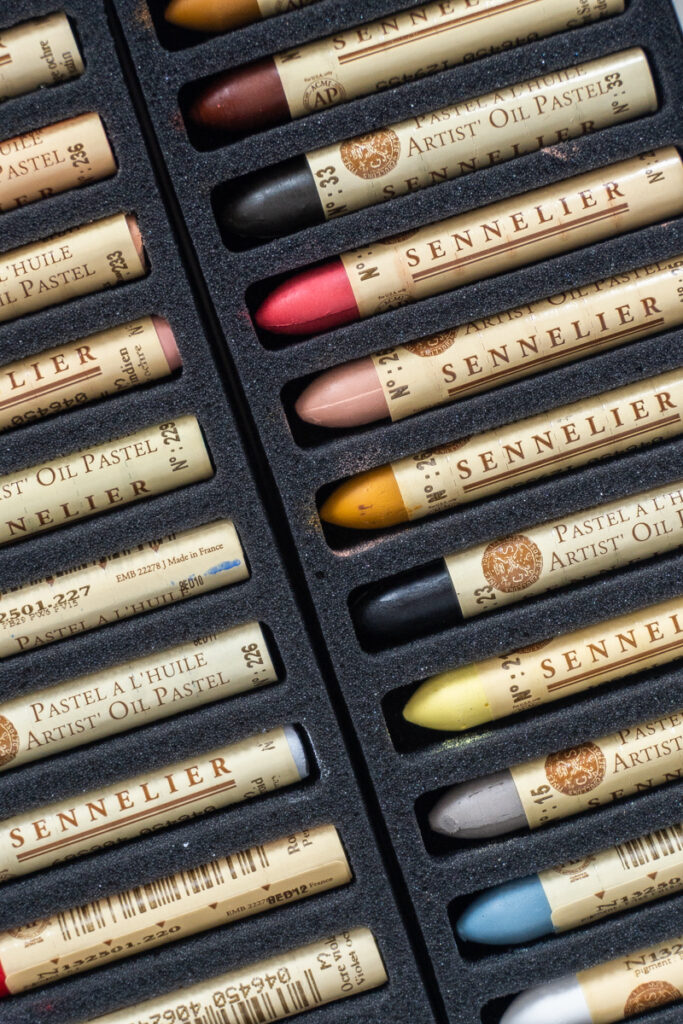 Pros
Super creamy and soft
Very easy to apply
Mixing and layering colors works great
100% lightfast
Can be purchased separately
Cons
They use up quickly
Some pastels in the set are smaller than others
Price is quite high
Final Thoughts
In wrapping up my Sennelier oil pastels review, it's evident that the hype surrounding these high quality oil pastels is well-deserved. My experience with them left me far from disappointed. Their velvety smoothness and creamy texture elevate the drawing experience, while the richness of pigments and strong lightfastness make them an excellent choice for professional artwork.
Quality, however, often comes with a higher price tag. If budget considerations are in play, consider starting with individual pastels to test or gradually building your own collection over time.
One point to note is that these oil pastels can be used up rather quickly, especially when covering larger surfaces. For more extensive works, you might opt to use other oil pastels for foundational layers, reserving the Sennelier oil pastels for those final layers.
In summary, I wholeheartedly recommend these oil pastels Sennelier produces. If the investment proves a bit steep, an alternative worth exploring are the Paul Rubens Haiya oil pastels I reviewed before. Comparable to the Sennelier range but more budget-friendly, you can find the detailed review of them here.
Thanks for reading this Sennelier oil pastels review. I hope it was helpful. Let me know if you used these before and how you like them.
How To Use Sennelier Oil Pastels
Oil pastels are very versatile and can be used by applying different techniques. You can smudge them using your fingers, layer them to blend seamlessly, or even utilize a brush with oil to mimic the feel of oil paint.
Oil pastels thrive on various surfaces like wood, canvas, glass, and, naturally, paper. For deeper insights into how to use oil pastels and exploring their versatile techniques, delve into this helpful article.
---
Other Oil Pastels Reviewed Before