If you've been reading my blog for a while now, you will know that I love Paul Rubens oil pastels because they are affordable and of good quality. So when they approached me and asked if I wanted to try their new and improved Haiya oil pastel set, I couldn't say no. They sent me their 48 Haiya oil pastel set for free in exchange for this review. Nevertheless, these are my honest opinions and experience with them. So continue to read my review of these Paul Rubens Haiya oil pastels.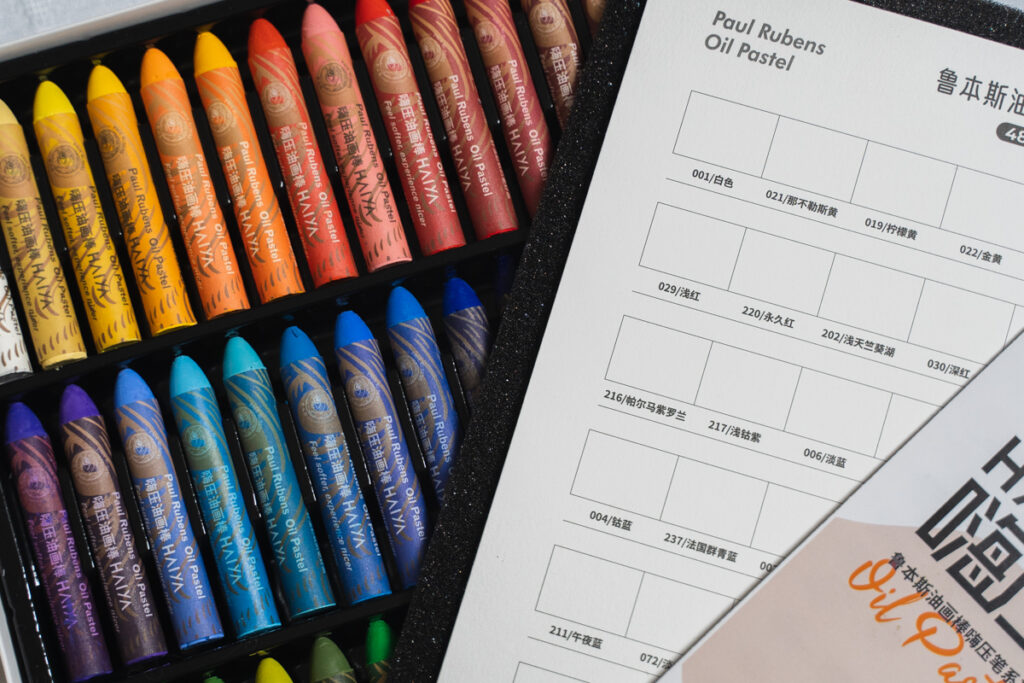 Before we get started these are the key features of these oil pastels according to the company:
1. Creamy Texture: They are super smooth and soft to use. The soft texture allow them to perform great for blending and mixing! Easy to color with no effort!
2. Novel Design: The new bullet design and cylindrical paint allow to grip and draw comfortably!
3. 48 Vibrant Colors: 48 vivid colors and providing strong coverage, showing the texture effect of oil painting!
4. Eco-friendly and High-quality Materials: The oil pastel set is made of eco-friendly materials and high-quality. Four seasons available, winter and summer seasons soft and hard degree changes very little.
5. Great Deal: This set of oil pastels is very affordable, high quality, and also perfect for beginners.
The Set
The Paul Rubens Haiya oil pastels come in different set sizes. The one I received is the 48 color set but according to the leaflet inside there are also 12, 24, 36, 60 and 72 color sets. Though only the 48 set seems to be available on Amazon for now.
You can currently find this set on Amazon for $28.99:
When opening the box you see the little leaflet and a swatch sheet. I absolutely love that they include a swatch sheet now. Once you remove the protective foam layer you see the oil pastels neatly arranged in a plastic tray.
The Colors
The colors of this 48 color set are what you would expect from it. Meaning you have shades of yellow, red, blue and green. There are also some pinks and purples and some earthy browns.
The colors are vibrant and especially the blues and greens offer a nice range of shades. Though I wish there were more neutral and more flesh tones but since it's not advertised as a portrait set it's okay.
Almost all of the 48 colors have a lightfastness of three stars. This rating is based on the Blue Wool scale. Since this is quite a poor rating I wouldn't recommend using them for commissions or pieces you want to sell.
Performance
Like I already said I used Paul Rubens oil pastels before and liked them. But let me tell you that these new Haiya oil pastels are so much better!
When I was swatching these I immediately noticed how soft and creamy they are. They are not sticky like some of the old Paul Rubens oil pastels are, which is a great improvement.
While swatching I noticed that only some of the greens (072, 042, 045) didn't feel as soft and a bit more streaky.
When doing my first little test drawing I was very impressed by how little pressure you need to apply the oil pastel to the paper. That's great for layering and mixing colors on the paper. You can smudge them super easily with your fingers as well. Nevertheless it's also possible to apply thick impasto like strokes on top of each other.
I like the new bullet shape but I also didn't mind the old cylindrical shape. This comes down to personal preference I guess.
Something else I noticed when I was drawing with them in the sun (inside) is that the wrappers get very oily which makes them a bit uncomfortable to use. But since oil pastels contain oil it's only natural that they get softer and a bit more oily when it's warm. But for this reason I probably wouldn't enjoy using them outside on a sunny summer day.
Pros
very soft and creamy
not sticky
easy to apply with no pressure
good coverage
can be layered and easily blended
can be applied thickly/impasto-like
Cons
wrapping gets oily when it's a bit warmer
some of the greens were not as smooth and a bit streaky
Comparison to Standard Set
Now I just want to quickly compare these new Paul Rubens Haiya oil pastels to my "standard" Paul Rubens 48 set.
The box of the Haiya oil pastels is quite a bit smaller which comes down to the plastic tray the oil pastels now lay in, instead of the foam the other ones are in. I do prefer the foam beds because it's a bit easier to get the pastels out but I like that the Haiya box is smaller so I'll accept the plastic tray.
The color range of the sets is similar though the "old" oil pastels have more beige and brown tones. The length of the oil pastels is about the same (6.9 cm/2.7 in) but the diameter of the Haiya oil pastels is smaller by about one millimeter.
I do prefer the new Paul Rubens Haiya oil pastels over the old ones because they are smoother, easier to apply and less sticky.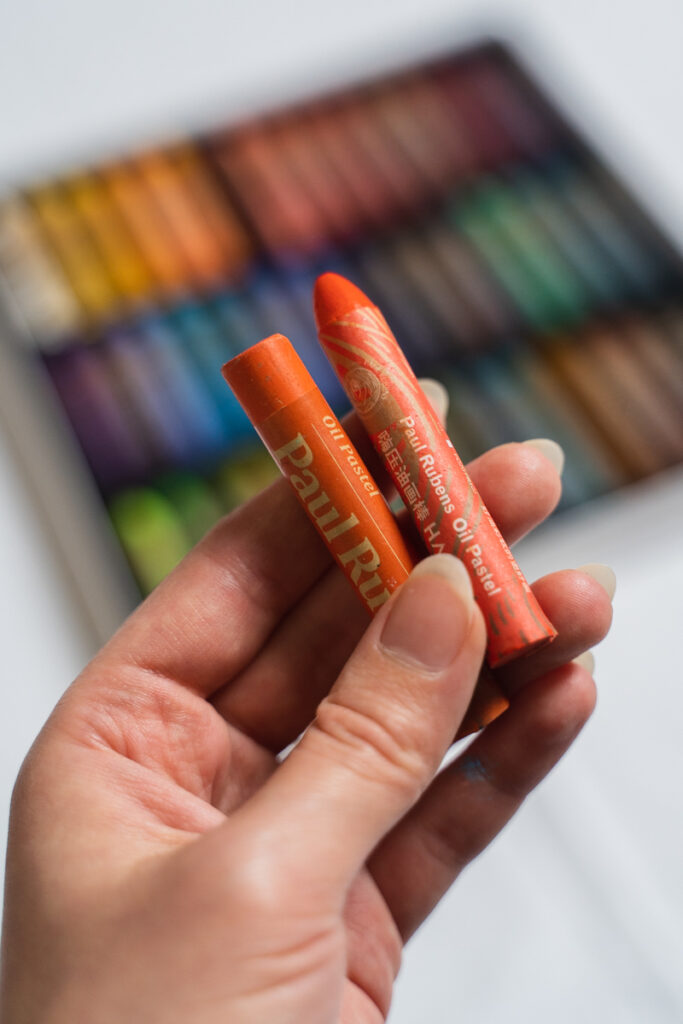 Final Thoughts
If you tried Paul Rubens oil pastels before and didn't like them because of their stickiness then you should give this Haiya set a try. These new oil pastels are smooth, soft and creamy and I loved drawing with them. Only three of the 48 colors were not as smooth and a bit streaky but they can still be worked with.
The price is affordable and they feel quite similar to the much more expensive Sennelier oil pastels. To conclude, this is a great student grade set for everyone who wants to get started with oil pastels.
It would be great if Paul Rubens bring out new color sets, like a portrait set, in the near future. Being able to buy individual colors would also be amazing but I don't think that's likely to happen.
Hopefully this review was helpful and inspired you to start drawing with oil pastels.
WHAT NEXT?
Oil pastels are fun to use but it might take you a bit of time to get used to them. But if you are interested in this medium and want to know more about how to use them you can read my Oil Pastel Techniques post here.
Here you can read my review of Paul Rubens 72 sea colors oil pastel set.
If you want to follow a step by step tutorial for your first oil pastel paintings check out these posts:
Watch me drawing with Oil pastels