Recently I was approached by Paul Rubens to test their Sea Scenery oil pastel color set. They sent me the oil pastels for free in exchange for this review. Nevertheless, these are my honest opinions and experience with them. So continue to read my Paul Rubens oil pastels review.
The Set
Paul Rubens offer different oil pastel color sets. I already own the 48 color set. The one they sent me now is the Paul Rubens Oil Pastel Sea Scenery Colors set and it consists of 72 vibrant colors. It is the biggest set they currently offer. The packaging feels very high quality and ensures that the oil pastels are secure and won't break during transport.
You can currently find this set for $46.99 on Amazon which is a totally acceptable price for the size and quality of these. If you use my links you can even get a $5 discount:
Amazon US
Amazon DE
The Colors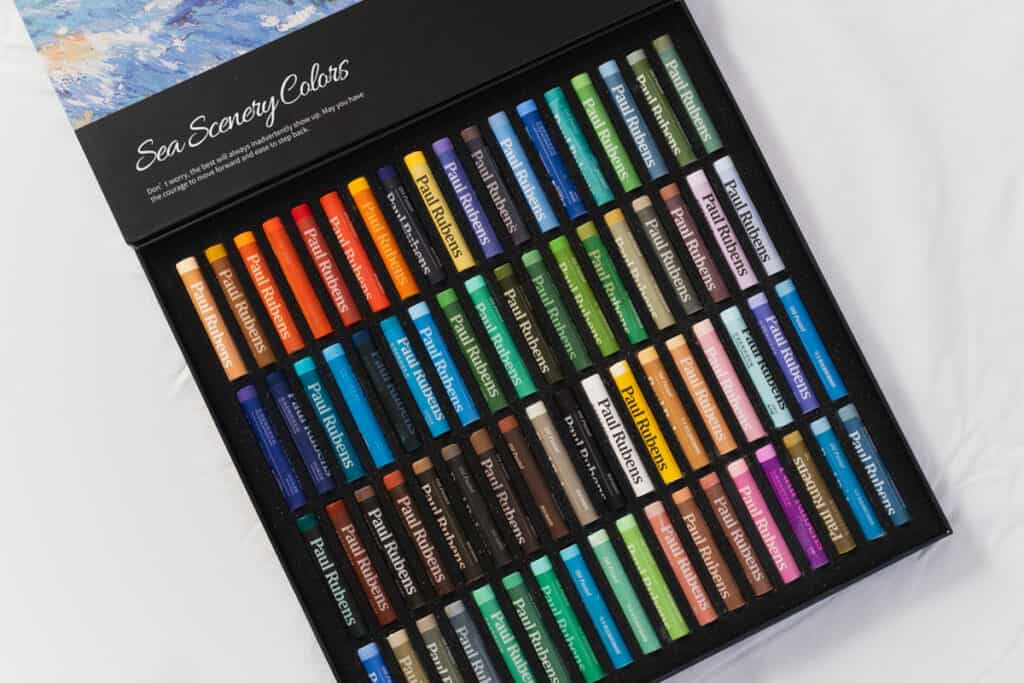 The color selection of these Paul Rubens oil pastels is very nice and there are a lot of lovely blue and green tones as you would expect from a sea scenery set. I also really like the more neutral and brown tones. There are only one red and two orange oil pastels. But again, since this is a sea scenery color set, that is totally acceptable.
The colors in this set seem to be a combination of the 48 set and the macaron set. But there are also quite a few new colors in it.
The original order of the colors in the box made no sense to me so I sorted them by color because that makes using them easier for me.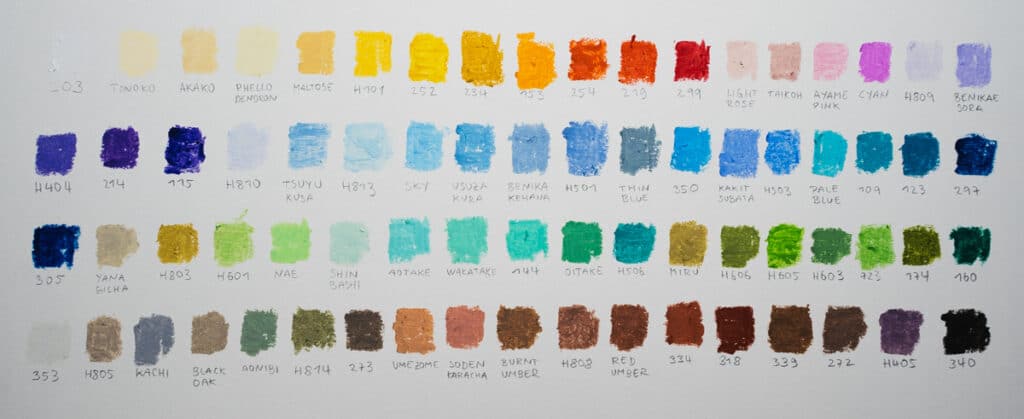 Performance
I used Paul Rubens oil pastels before so I kind of knew what to expect. So when I was swatching these I immediately noticed the same problem I had with my 48 set: They don't perform consistently.
But let's start with the positives. Most of the oil pastels are really soft and smooth like butter and glide onto the paper without needing to apply much pressure. They cover the surface nice and easily and you can also achieve a wonderful thick texture with them. It's very easy to blend them and apply the pastel thickly on top of other colors.
Some oil pastels are more sticky but still lay down the color nicely.
But some of these Paul Rubens oil pastels are very streaky and just impossible to apply evenly. They kinda feel like wax crayons. You can still mix them with other oil pastels but don't expect them to be layered thickly on top of other colors (unless you use a palette knife).
I tried to show what I mean in these pictures with three different pastels: Nae, H601 and Wakatake. Nae and Wakatake performed really well while H601 was one of the disappointing oil pastels.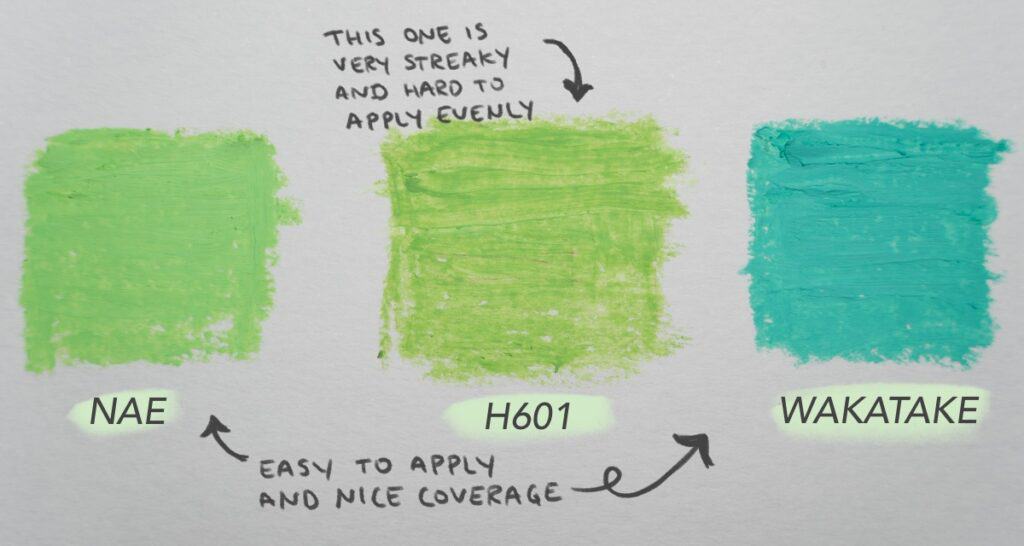 Fortunately there are only a few of those pastels which don't perform that well and I noticed it's mostly lighter colors. Still it's a bit of a shame and I hope Paul Rubens will work on this because then they will truly be perfect.
Pros
Creamy texture
Easy to apply
Can be layered thickly
Can be mixed easily
Beautiful color selection
Cons
Colors don't perform consistently
can be a bit sticky
Some are streaky and can't be layered
can leave little crumbs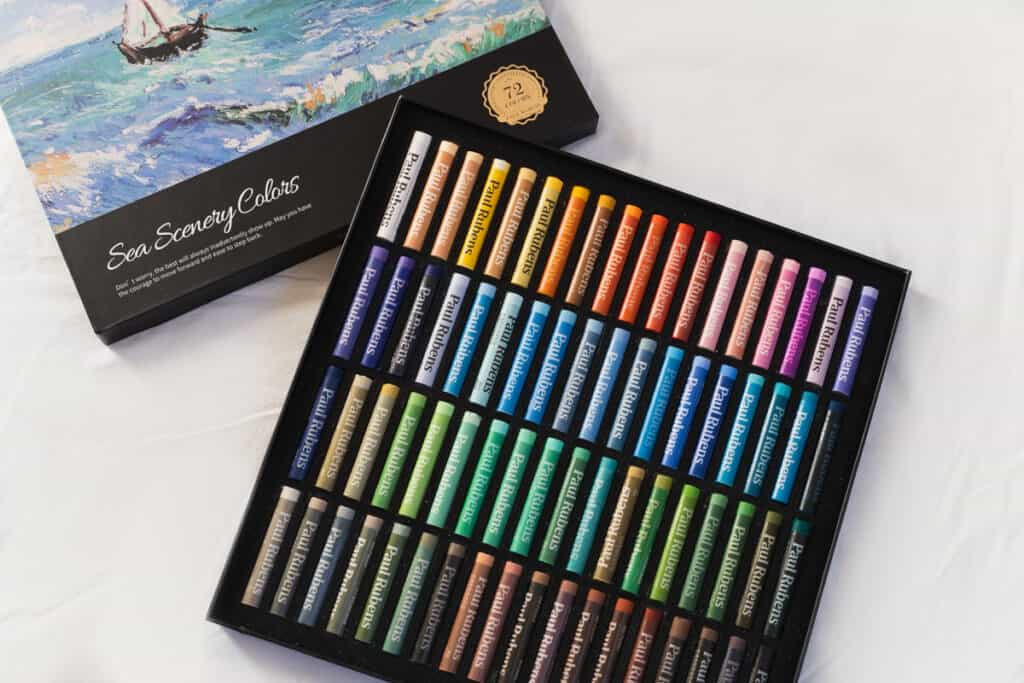 Final Thoughts
All in all I really like these Paul Rubens oil pastels and can recommend them. Especially for beginners this is an affordable option and a great alternative to the market-leading (and much more expensive) Sennelier oil pastels.
I love the nice thick texture you can achieve with them. The colors are perfect for landscapes but also suitable for drawing portraits. You can see examples of both down below.
I hope you found this Paul Rubens oil pastel review helpful. Have you used these pastels before? How did you like them? If you want to check them out click here.
how I painted this portrait
What Next?
Oil pastels are fun to use but it might take you a bit of time to get used to them. But if you are interested in this medium and want to know more about how to use them you can read my Oil Pastel Techniques post here.
If you want to follow a step by step tutorial for your first oil pastel paintings check out these posts: