In my quest to explore different brands of oil pastels, I had the pleasure of testing Mungyo's renowned Gallery Artist's soft oil pastels. Originating from Korea, Mungyo has garnered a devoted following and a reputation for excellence. Naturally, I had to try these Mungyo oil pastels as well. Mungyo was so generous to send me two sets to review, allowing me to delve into their unique qualities. Nevertheless, these are my honest opinions and experiences.
If you just want to know if these oil pastels are good and worth their prize, here's the short answer: Yes, they are really good and absolutely worth it!
Continue reading to find out more.
The Set
The Mungyo Gallery Artist's soft oil pastels are available in sets of various sizes, ranging from 12 to 120 different oil pastels. For the purpose of this review, I received the 48-color set and the 120-color set.
In both sets, the pastels are securely packaged in boxes and protected with a thin foam sheet. The 120-color set stands out with a more premium feel, featuring foam trays to hold the pastels, which can be easily removed. On the other hand, the 48-color set utilizes a plastic tray to house the pastels. I'm pleased to report that in both sets, none of the pastels arrived broken or damaged.
Overall, the packaging of the Mungyo Gallery Artist's soft oil pastels ensures the safety and integrity of the pastels during transportation and storage.
---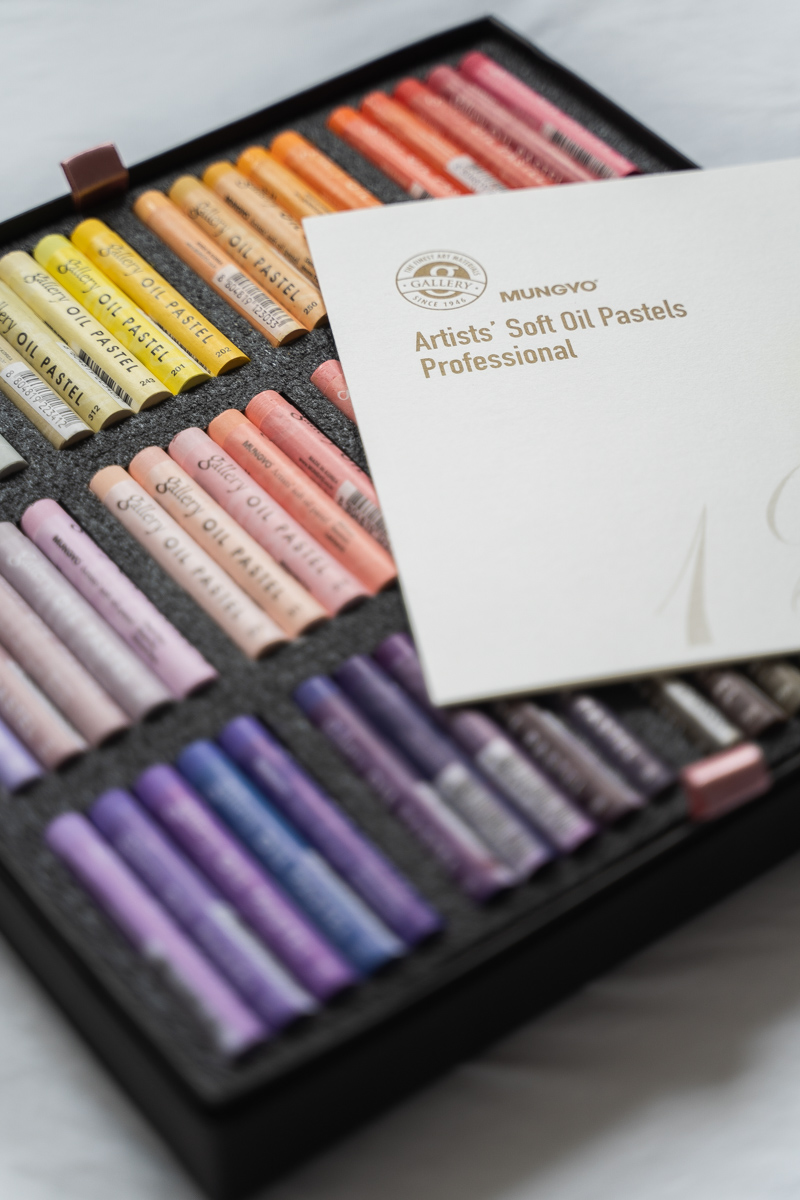 Currently you can get the 48-set for about $21 on Amazon which is quite affordable:
Amazon US
Amazon UK
Amazon DE
The 120-color set is currently offered for $101.99 on Amazon.com:
Amazon US
The Colors
The 48-color set provides a pleasing range of colors, featuring multiple shades of each color and offering a great variety of options for skin tones. As oil pastels can be easily blended together, this set is more than sufficient for beginners, including all the necessary colors.
The 120-color set, on the other hand, is the largest set available, encompassing the entire range of Mungyo's oil pastel colors (not including their metallic & fluorescent colors ). I am particularly impressed with the extensive color selection, as it includes almost every hue one could desire. And even if a specific shade is not included, it can easily be achieved through mixing. Having such a vast array of colors and hues to choose from is truly delightful.
Both the 48-color and 120-color sets boast vibrant and highly pigmented colors. None of the colors appear transparent, ensuring a bold and impactful application.
Unfortunately, there is no information provided regarding the lightfastness of the Mungyo oil pastels.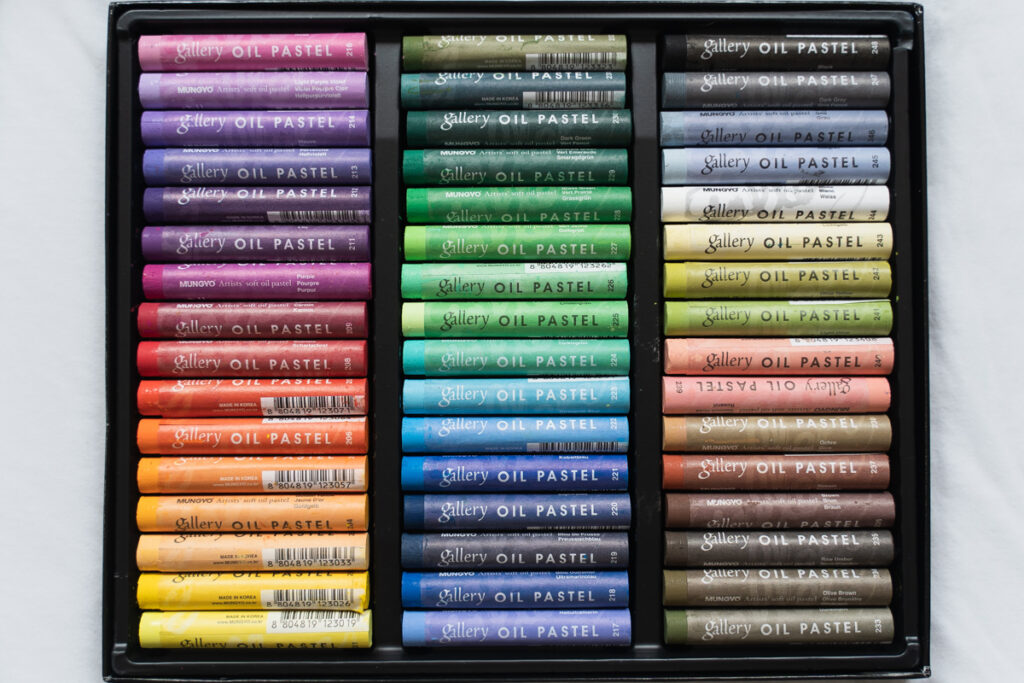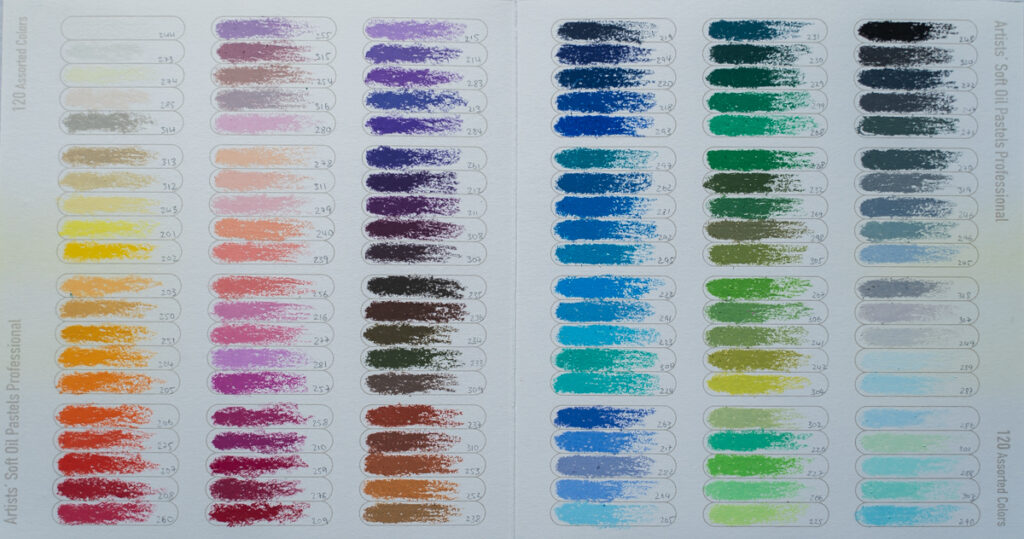 Performance
The first task I embarked upon with the Mungyo Gallery Soft Oil Pastels was swatching them. To my delight, the 120-set included a handy empty swatch card, a thoughtful addition.
During the swatching process, I immediately noticed the softness, creaminess, and lack of stickiness in these pastels. However, what truly astonished me was the consistent performance of all 120 colors! Each pastel applied the color evenly and opaquely, a rare feat among most brands.
While some oil pastels tend to vary in softness, particularly the greens which tend to be harder, I would categorize the Mungyo pastels as medium soft. In comparison, Sennelier and Paul Rubens Haiya oil pastels are slightly softer.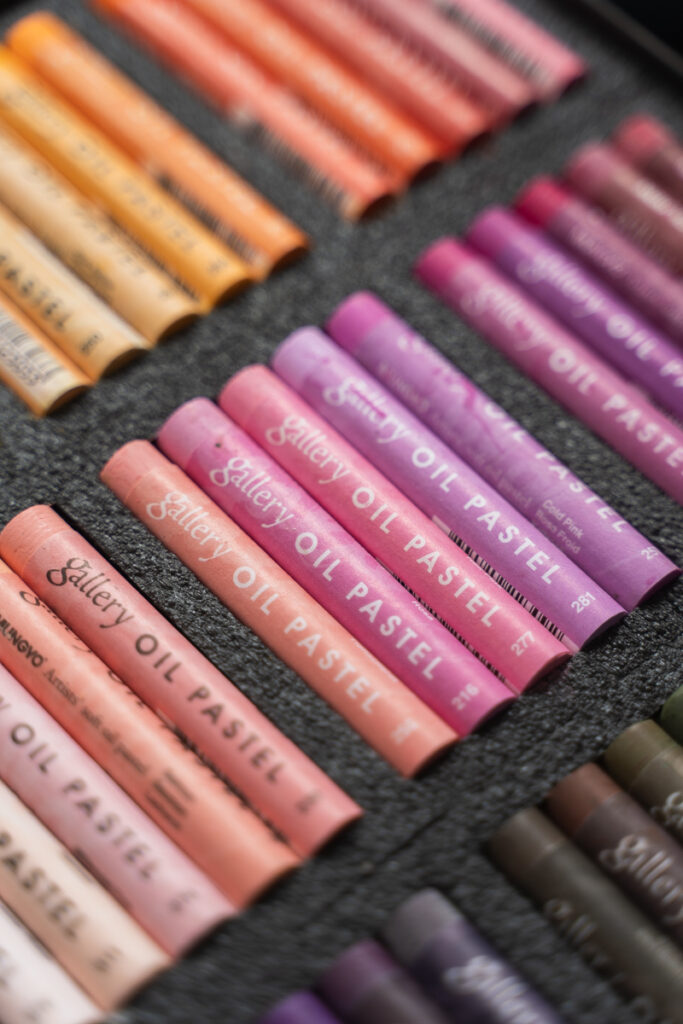 As I embarked on my first artwork using the Mungyo oil pastels, I had a fantastic experience. The colors blended seamlessly and could be layered effortlessly. Mixing them together was a breeze, resulting in beautiful color combinations.
Mungyo Gallery Artist's Soft Oil Pastels – 48 Colors
Pros
Soft and creamy texture
Non-sticky
Easy to mix and blend
Amazing value for the affordable price
Cons
Lack of information regarding lightfastness ratings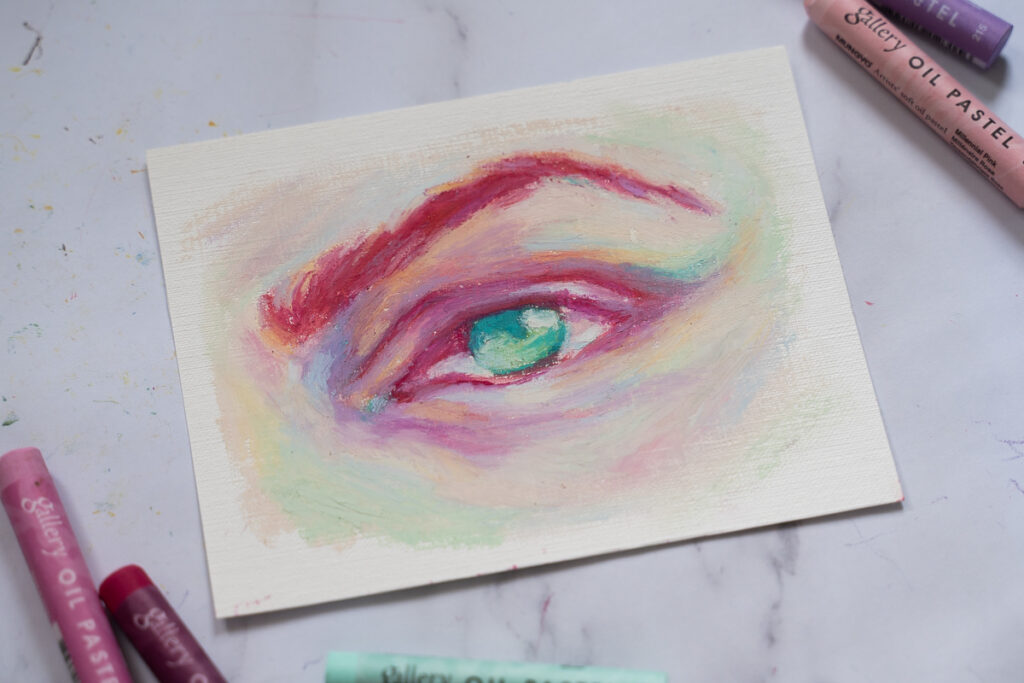 Final Thoughts
In conclusion, the Mungyo Gallery Artist's Soft Oil Pastels have quickly become one of my personal favorites. I thoroughly enjoy working with them and wholeheartedly recommend them to both beginners and experienced oil pastel artists.
While they may not possess the same level of softness as Sennelier, for instance, this characteristic actually works to their advantage when it comes to applying initial layers and covering larger areas.
However, it is essential to consider the absence of lightfastness information if you have intentions of selling artworks created with these oil pastels.
Overall, the Mungyo Gallery Soft Oil Pastels offer a delightful range of vibrant colors, a pleasingly creamy texture, and excellent blendability. Whether you're a novice or a seasoned artist, these oil pastels are a fantastic choice.
---
What next?
Here are some other oil pastels I have tried and reviewed: