Soft pastels are a medium that's often underrated and in my opinion not talked about enough. I recently got a bit more into this medium and I'm slowly testing my way through different brands. In this post I'm reviewing the Paul Rubens Artist Soft Pastels. The Paul Rubens company were so kind to send me this 40 Portrait Color Soft Pastel set in exchange for a review. Nevertheless these are my honest opinions and experience. Continue to read my Paul Rubens soft pastels review.
The Set
Paul Rubens offer different sets of handmade soft pastels. There's a 36 vibrant color set, a 40 portrait color set (this one) and recently they added a 72 vibrant color set. The last one you can only get at the US Amazon for now and a few of the 36 set colors seem to be in the 72 set as well.
The one I received is the 40 color set which is marketed as the portrait set. As of right now you can't buy any individual colors.
The packaging is very high quality and looks simple and chic. The soft pastels are tightly secured in their individual foam beds. All of them arrived safely and whole.
In the box you can also find a little pamphlet with the color card and instructions. But I was most excited to find a color swatch sheet in it (besides seeing the pastels of course). I wish they would add one to their oil pastels as well.
You can currently find this set on Amazon for $39.99 which comes to around $1 for each soft pastel. That places them into the low-midrange prize category.
Get them here:
The Colors
Let's take a look at the colors of this Paul Rubens soft pastel portrait set. When I first opened the box I immediately noticed how vibrant these pastels are. They almost seem to glow.
The order of the pastels in the box is the same as shown on the color card in the pamphlet and on the swatch sheet. The color permanence and the pigment information are unfortunately not noted in the color card but you can get this information from the color chart on the Amazon product page. I inserted it down here as well.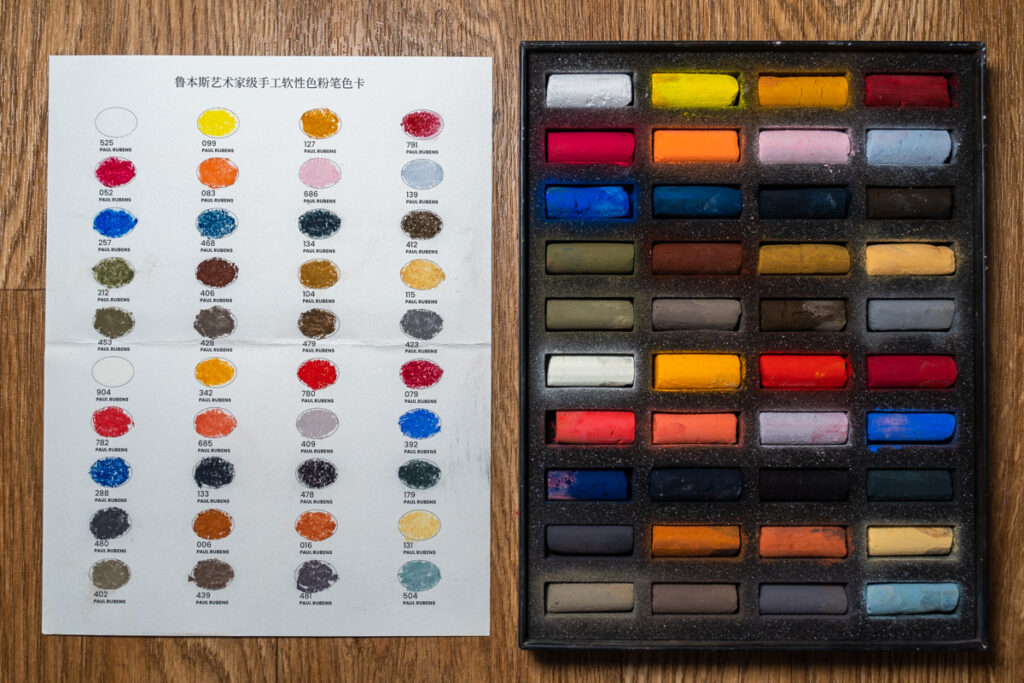 The colors range from yellows to a few oranges and reds, dark greens, blues, browns and grays. They are mostly warm and great for portraiture drawing. This color selection is similar to the 40 color portrait set by Sennelier but the Paul Rubens colors seem to be more vibrant.
I think this selection could be slightly improved since some colors look very similar. The dark reds 791 and 079 are almost identical. Also 133 and 478 are too similar. Maybe these similar colors could be switched out for a lighter green and a lilac or purple. While testing them I also wished for more variety in values.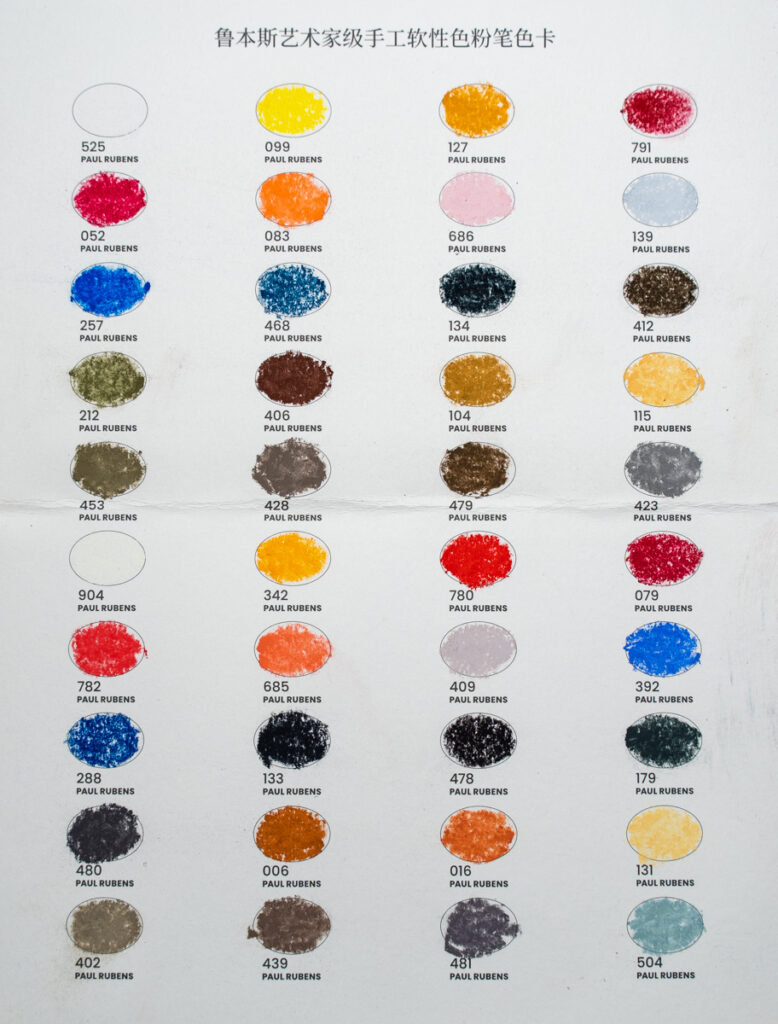 The pastels & their performance
These artist soft pastels by Paul Rubens are handmade so the shape and size of them vary. Roughly they are 3,5 cm (1,38 in) long and 1,4 cm (0,55 in) wide. I wish they were a bit longer and a little bit thinner so it would be easier to draw small details but that's just my personal preference.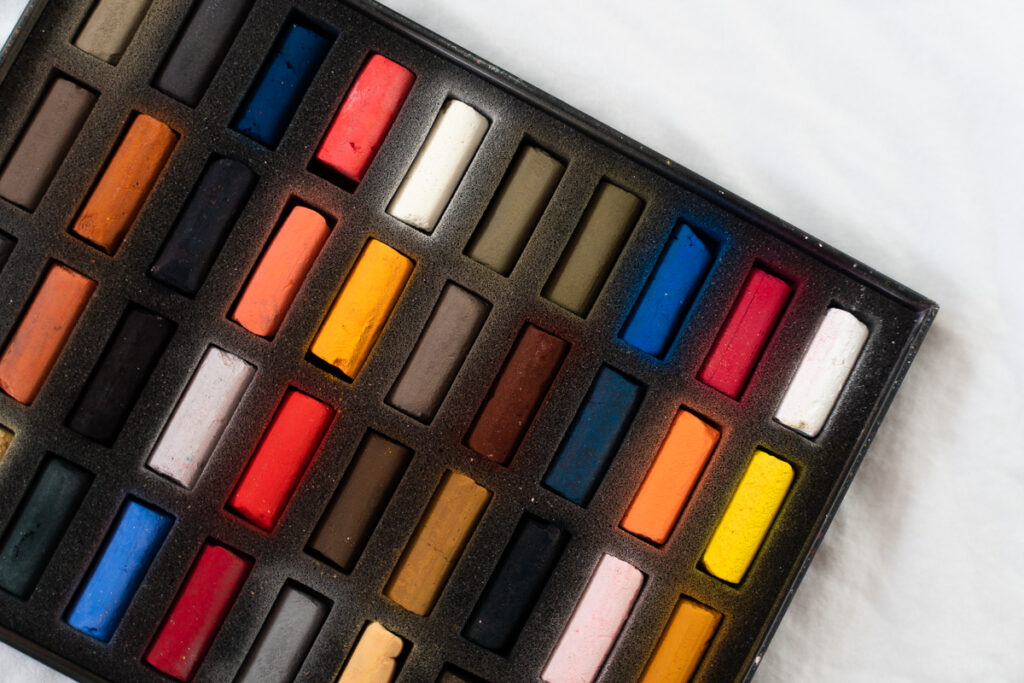 Now let's talk about their pigmentation. I'm very impressed with how pigmented they are. When I swiped over them with a finger the pigment was already sticking to it.
My first impression while swatching was that most of these Paul Rubens soft pastels are really soft and feel almost "buttery". They are easy to apply to the paper. Some pastels were a bit harder (468 & 288 for example) and felt scratchy while applying. This could be because of the different pigments and the varying amount of binder.
Here are three different swatches for comparison. I used the same amount of pressure and you can see that the middle one (468) releases less pigments to the paper. The other two are very soft and lay down lots of pigments.
Pros
Highly pigmented
Vibrant colors
Soft and "buttery" feel to them
Affordable prize
Cons
Some are harder and feel scratchy
Too many similar colors
Final thoughts
All things considered I like these Paul Rubens artist soft pastels. Truly I am very impressed with them. The colors are vibrant and the pastels themselves are highly pigmented. Generally most of them are soft and easy to apply. The color selection could be slightly improved by switching some of the similar colors. But all in all it's a good selection for portrait drawing.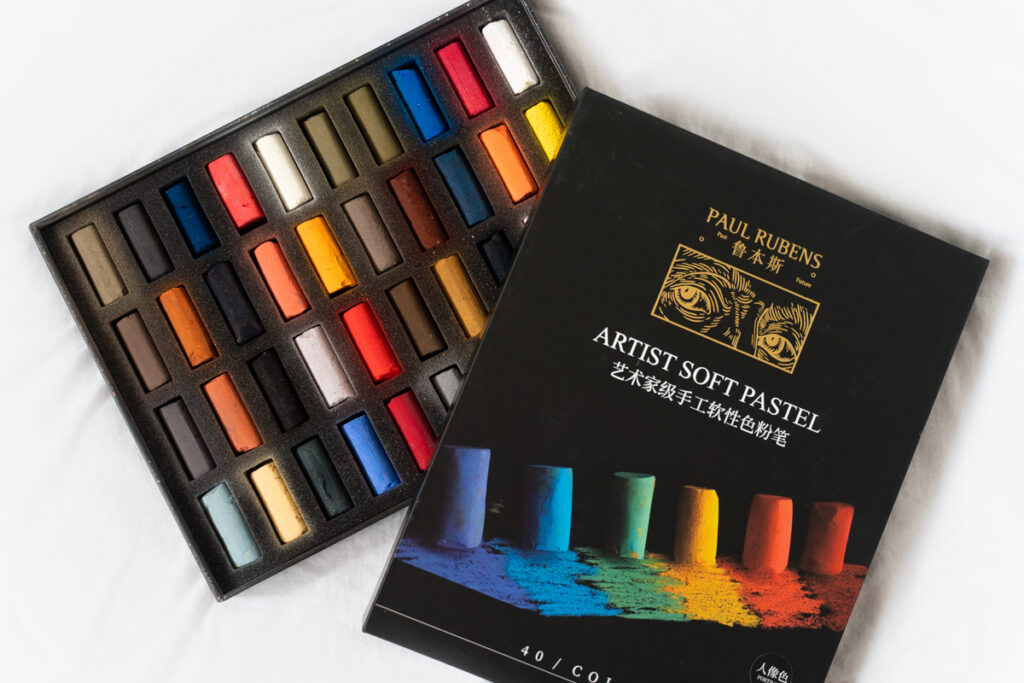 I hope they will add more colors and sets to their line-up and eventually add the option to buy individual colors.
As a soft pastel beginner I'm satisfied with these and can recommend them to anyone who wants to try out soft pastels for the first time. I hope this Paul Rubens soft pastels review was helpful. Let me know if you already tried them and furthermore if you like them.
What next?
If you are more interested in oil pastels you can check out my review of the 72 oil pastel set by Paul Rubens here.