It might be easier than ever to make money as an artist these days, and the cliché of the starving artist doesn't have to be true. The internet and social media offer a huge advantage that previous generations of artists didn't have, providing more opportunities but also increased competition. However, there is space for every passionate artist.
As an artist, there are several ways you can make money and monetize your creative skills. Here are some strategies to consider:
1. Sell Your Artwork
Showcase and sell your artwork through various channels such as art galleries, online platforms, or local exhibitions. Consider creating a portfolio website or using platforms like Etsy, Saatchi Art, or Redbubble to reach a wider audience.
Participate in local art fairs, exhibitions, and craft shows. These events provide opportunities to sell your artwork directly to interested buyers, network with fellow artists, and gain exposure.
Where to sell your art:
on online market places like Etsy
on your website
on social media
in person at art fairs
in galleries
2. Sell Art Prints
Additionally, you can sell copies of your original art, which is usually a more affordable option for your collectors to own a piece of your work. It also allows you to profit from your art multiple times.
To produce high-quality prints, you will need to scan your artwork with a good scanner or take a high-resolution photograph.
You have two options for printing and shipping: you can handle it yourself, or you can use a print-on-demand service. Each option has its pros and cons, but for beginners, using a print-on-demand service is likely easier. These services also offer the opportunity to upload your designs or artwork onto various products like t-shirts, mugs, phone cases, and more, and you earn a commission for each sale.
These are some good print-on-demand services:
You can also offer your art prints as downloadable content. This means your customers pay to download a digital jpg or png file, which they can then print themselves.
3. Commissions
Another way to make money as an artist is to offer commissioned artwork, where clients can request custom pieces based on their preferences. This can include portraits, illustrations, murals, or any other specialized artwork. Advertise your commission services on your website, social media, Etsy, or through word of mouth.
Other freelance work could include graphic design, illustration, concept art, or other artistic projects. Websites like Upwork, Freelancer, or Fiverr can connect you with potential clients.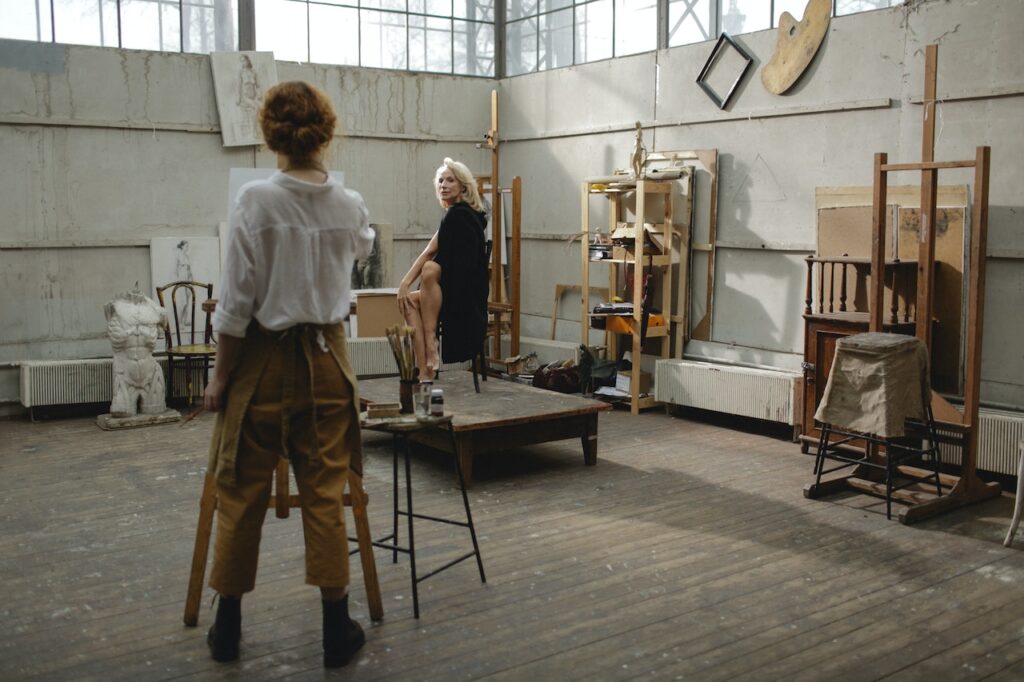 4. YouTube
To be able to make money on YouTube with Google AdSense you need patience and persistence. And good content. But it's possible to make an extra income with art videos. You can share your drawing/painting process, create art vlogs, or offer valuable tips on how to draw/paint.
5. Blogging
Blogging is not dead, and it's possible to make money as an artist with a blog, for example, through display ads, sponsorships, or affiliate sales. On your blog, you can write about your art or educate people with drawing or painting tips.
However, making money with a blog is hard work, and you will need a decent number of helpful posts to gain any monetizable traffic, so don't expect success to happen overnight.
The good thing about having a blog/website is that you own it (if you don't use a free provider), and it will be there even if Instagram or any other social platform should decide to go down.
It's a space you can completely make your own and can open many doors.
6. Sponsorships
If you have a decent size of a social media following, whether it be on Instagram, YouTube, or TikTok, you can make money by working with brands and doing paid sponsorships. A brand might reach out to you, but don't hesitate to pitch to brands yourself.
Of course, the brand or product should fit you and your niche, or you might risk the trust of your audience. For example, if you're an oil painter posting about painting, your followers will get confused and question your authority if you start promoting diet pills.
7. Become A Brand Ambassador
A brand ambassador is someone who exclusively uses and promotes one brand over a period of time (usually a year). Art brand ambassadors will usually receive products from the brand that they should promote in posts on social media. Artists are not allowed to promote other art brands during the contract time but can, therefore, ask for higher compensation.
If you love a specific art company and would be okay to only use this one brand (at least on socials, you can use other brands in private, of course), you can pitch to them and ask to be a brand ambassador.
8. Sell eBooks
Selling digital goods like ebooks can be a great way to make a passive income. You create it once and can sell it again and again without having to trouble yourself with printing or shipping.
You could create an ebook of your best works, sketchbook drawings, or write down your artistic knowledge and teach something.
9. Create An Online Course
People who love your art will often want to know how you created it. Share your artistic skills and knowledge by creating an online course. Of course, it's not easy nor quick to create a helpful course; it requires a lot of preparation, research, skill, and marketing for it to be successful. But if you're willing to put in the work, it can be a great source of passive income. Platforms like Udemy, Skillshare, or Teachable can help you reach a broader audience.
If an online course is not for you, but you're still interested in teaching, you can offer workshops, classes, or private lessons. It can work both online and offline.
10. Licensing And Royalties
Explore the option of licensing your artwork for various purposes such as merchandise, book covers, album artwork, or even for use in advertisements. Companies or individuals can pay you royalties or a one-time fee for using your art.
11. Patreon
Engage with your fans and supporters by launching crowdfunding campaigns or creating a Patreon account. These platforms allow people to financially support your creative endeavors on a recurring basis or for specific projects. In order to make money as an artist with Patreon you should have a decent size following that's interested in you and your art. That's why it's important to build a community on social media.
12. Art Grants And Competitions
Research art grants, fellowships, and competitions that offer financial support and recognition to artists. These opportunities can provide funding for your projects, residencies, or exhibitions.
13. Collaborations And Partnerships
Seek collaborations with other artists, businesses, or organizations. This can help expand your network, gain exposure to new audiences, and potentially lead to paid projects or joint ventures.
---
Remember, establishing a successful artistic career and making money as an artist takes time and dedication. It's essential to build a strong portfolio, market your work effectively, and continuously improve your skills. Stay proactive, engage with your audience, and explore various income streams to diversify your revenue as an artist.
You might enjoy this read next: Tips for learning a new medium