In this easy step by step tutorial I show you how you can draw eyes with charcoal or a pencil. I use charcoal like this but you can use whatever you have. You can follow this tutorial and then apply these steps to other eyes you want to draw.
I suggest you use reference pictures to practice your eye drawings. Photograph your eye from different angles and then use these pictures as your reference.
Step 1
Sketch out the rough shape of the eye socket. This will also suggest the final size of the eye.
Step 3
Sketch out the upper eyelid. I do this with a few straight strokes rather than one round line.
Step 4
For the next step I add the lower eyelid. Again I'm using straight lines rather than one round line. Additionally, I like to smudge the charcoal a bit.
Step 5
Now it's time to add the crease of the eyelid. And you guessed it, I'm using straight lines again.
Step 6
Draw a circle for the iris and add a rectangular shape for the reflection. Then draw a small black circle for the pupil.
Step 7
Now you can add a some small details like the lower lash line and a bit of shading in the iris.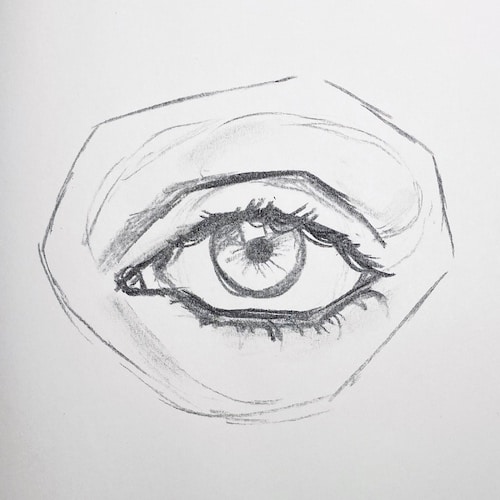 Step 9
Adding the lashes for the next step will make it look almost finished.
Step 10
Now it's time to draw the brow. You don't have to draw every single hair but make suggestive marks.
Step 11
For the final step you just darken some lines and add shading around the whole eye. The shading will make everything seem more realistic and more believable.
That's it for this quick and easy tutorial on how to draw eyes. Let me know if this was helpful and send me your recreations.